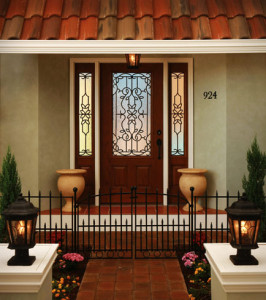 The front door symbolizes first impressions. It's the last touch of your home when you leave for the day, and the first thing that greets you when you get home. It's no wonder more and more people are exploring their options for truly memorable exterior wood doors. The right door can make an impression on guests before they even ring the bell, or it can complement the décor inside the home. This article will look at several interesting styles you can take with your exterior doors, including going for a rustic look to match existing themes, incorporating glass to let in more light, and ways to contrast wood with different exteriors. The exterior doors connect your home to the larger world, so hopefully you'll pick up some ideas on how to make that connection memorable.
The Rustic Look to Complete a Theme
A rustic theme has become increasingly popular to inject a touch of nostalgia or old world charm into our modern homes. A few rustic kitchen elements contrasted with modern appliances and functional spaces has become a kitchen trend that looks great. If you've gone down that route or are considering it you can add rustic touches with the woodworking throughout a contemporary and stylish home to complete the theme. Exterior wood doors for both your main entrance and patio can be done in this style easily and with great impact. Perhaps the best thing about this look is the wealth of personal touches that can make your doors perfectly match any details of your home. Any rustic look will be embracing wood tones, so a wooden exterior door can match almost anything. From a warm golden hue to a dark rich and luxurious shade the doors can easily be made to match any other woodworking in the house. You could take exterior wood doors even further with detail work or inlays that play off other woodworking elements in the home.
Incorporating Glass to Bring the Outside World In
Custom exterior wood doors with glass set into them can create a tasteful and classy alternative to sliding glass patio doors. The wood allows you to match other design elements around the patio in a way you just can't match with doors purchased off the rack. If you have arches or columns the doors can be shaped to mirror them, creating a reflection of your patio style. Similarly if you have any wooden patio furniture, tasteful tables, lawn chairs, or a barbecue bench, the exterior wood doors can match the tone of the wood to tastefully complete the colour scheme.
Doors that Accent Your Exterior
Using exterior doors to create the perfect portal into your home doesn't need to be restricted to houses that extensively feature woodworking. There are lots of great ways to use the flexibility of wood to match existing stonework, stucco, or almost any color of siding. If you have a light earth tone for the exterior of your house, consider contrasting it with a dark stained front door. This can tie together the earth tones while still being an effective point of contrast. Similarly if you have used stucco consider an exterior wood door that contrasts in colour while playing to the texture with beveling or other engravings. If there is a lot of glass welcoming visitors to your home you can provide a different kind of contrast by embracing a sturdy and solid wooden door in a color that compliments the other exterior colors, making the glass the point of contrast.